Do not underestimate Trump. He won in 2016 with an amateur campaign, just on the force of his personality and ideas. He will be even more formidable with an organized and professional infrastructure behind him.
He will lose the popular vote, but that doesn't really matter if he focuses on his path to victory. He can easily win a majority of the electoral votes if the Democratic candidate isn't smart and disciplined enough to campaign in the battleground states and avoid wasting time in the states where the result is a foregone conclusion.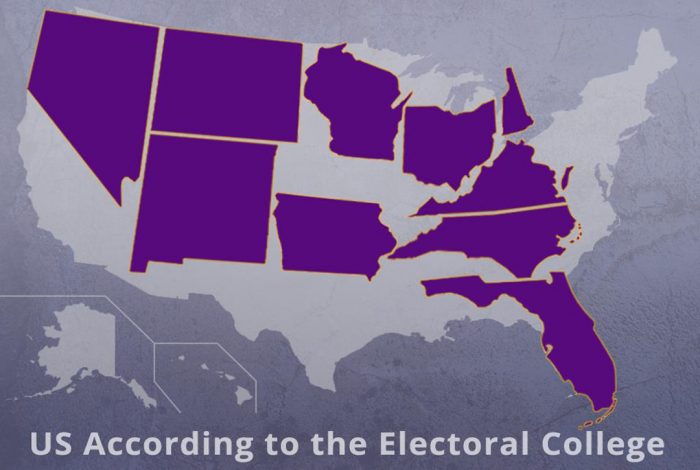 NOTE: An updated version of that map should include Michigan, Minnesota, Georgia and Pennsylvania as well. Those four, plus the purple ones in the map, are the only states that really matter in a presidential campaign. Just about everything else is predetermined.
(I guess you could include Maine if you want to be really picky.)
So, how did Trump do in that map of the "real" America. He kicked ass.
————
Any Democrat, left or center, will win California. If the Democrats nominate me to run against Trump, I would carry California, and D.C., even if I talked about naked celebrities the entire time. Similarly, every Democrat will lose certain states like Wyoming and the Dakotas. Jesus himself would lose those states with a (D) after his name. Hillary barely got 20% in some of those states.
As much as we hate to admit it, most of the country doesn't really matter in a presidential election, because the results are a foregone conclusion. The whole battle is fought in just a few states.
That makes it all the more imperative that the Dems choose somebody fairly close to the center, because anybody talkin' socialism and gun control will be running uphill in those battleground states.
Now I am as unscrupulous as the Republicans, so if I were advising the Democrats, here is what I would suggest. Develop a secret team whose job is to create a far-right candidate with decent financing. It doesn't matter who he is, as long as he is a clean-cut unknown white male with decent acting skills who doesn't mind acting a part that will forever brand him as a nutbag. Do not run him as a Republican challenger, but wait for the general election, have the team register him in every battleground state, and run him as an independent to the right of Trump. Let him siphon off Trump's far-right supporters by attacking Trump as being soft on Islam, soft on ISIS, soft on crime, soft on the second amendment, soft on immigration, you name it. The whole white supremacy schtick. That guy, whoever he is, will get a lot of votes, because Americans are much stupider and more bigoted than you think. And those votes could be critical in the tight purple states.