All captures, collages and comments in this post are by Brainscan. He also created the accompanying film clips in the members' area.
The first four parts of the series are found as follows:
Part 1: 1932. Peak Pre-Code Talkies.
Part 2: 1929-1934. The Other Pre-Code Talkies,
Part 3: 1927. The Swan Song of the Silents
Part 4: 1900-1926. The Silent Era
The Dry Years
1935-1951
From July 1934 through the early 1960s, enforcement of the Hays Code kept American movie screens safe from the tyranny of nude scenes, or just about anything even mildly risqué.  Well, not entirely safe.  Left was an occasional scene,
in China Seas, when for a frame or two, something no one intended made it onto the screen.
(Lillian also did some modeling)

There was scene of what is supposed to be Jane Wyatt from Lost Horizon (1937) swimming nude in a Himalayan paradise, but it was shot with a camera so far  away it might as well have been in the Alps.
And Rita Hayworth, in Gilda, wears a wonderfully thin blouse (something she would duplicate in still photographs).

(She was also a famous "pin-up" who adorned the locker of many a lonely GI)
But the rest of what might be seen in the late '30's and throughout the 40's were foreign productions.  Lucrezia Borgia in 1935 was the best of its time.  Edwige Feuillere played the infamous Ms. Borgia, complete with what has to be the first full-frontal scene by someone who was or would become a true star.
A second actress goes topless when mauled by Cesar Borgia (played as though he were nothing more than troglodyte).  I think she is Jeannine Fromentin, but I cannot be sure.
German cinema contributed Margit Symo, topless in Der Postmaster (1940),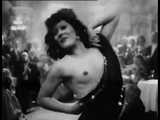 while Italian producers gave us Vittoria Carpi in La corona di ferro
(1941, reputed to be Italian cinema's first topless scene),

Clara Calamai in La cena delle beffe (1942)

and Elli Parvo in Desire (1946).
The Danes got into the act, with Tove Maes in Ditte Menneskebarn (1946).
From there until the early1950's, French cinema keeps alive our hopes and dreams with