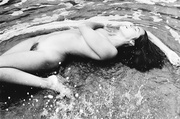 This was recently auctioned off. Some details here.
Comments by Adam (aka Whitecaps):
I remember being in the local library (main branch) sometime between 1983-1985 and seeing Greta Scacchi in a nude pictorial in, I think, Vanity Fair Magazine. I believe this was a month after Elle MacPherson did a nude pictorial for, I believe also Vanity Fair Magazine. (Add: it might have been GQ Magazine. If I didn't imagine the whole thing, I'm sure it was one or the other.)

I think a couple people have told me that my memory must be faulty because Greta Scacchi never did a nude pictorial for Vanity Fair (or for any other magazine) but this image (above) has been making the rounds recently.
Scoop's notes:
Given that the pic above was taken in 1991, it's not from the pictorial you remember in 1983-85.
Maybe you have the date wrong. Greta supposedly did this kinda-sorta nude for British GQ in August 1995, photographed by Rankin.