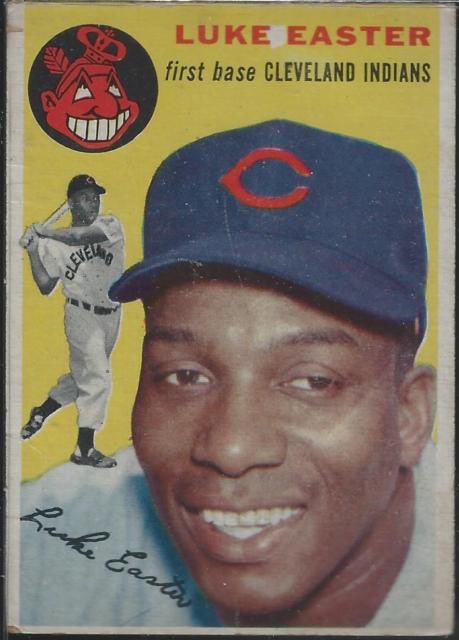 Luscious Luke was my favorite player when I was a kid. If you grew up in Rochester or Buffalo, you will probably say the same thing. He was a local legend. Although a kind-hearted man who was a clubhouse joker, he was a brute in the batters' box. He was 240 pounds of muscle with shoulders that seemed as wide as two ordinary men, and he could hit the ball as hard as anyone ever has – as hard as Bo Jackson, Giancarlo Stanton, Babe Ruth or Mickey Mantle. In fact, if you want to imagine him, just picture a black version of Stanton. By the time I saw him, Luke was nearly 50, wore glasses to bat, and was slow to time the fast ball – but was so strong that he hit 400-foot homers to the opposite field.
Wikipedia summarizes:
"As a player, Easter was best known for his powerful home runs, colloquially known as "Easter Eggs." While with the Homestead Grays in 1948, he became the first player to hit a home run into the center field bleachers at New York's Polo Grounds during game action, a section that was 475 feet from home plate. During his rookie season, he also hit the longest home run in the history of Cleveland's Municipal Stadium, a 477-foot blast over the auxiliary scoreboard in right field. The only other player to match that feat was Mickey Mantle, who did it in 1960. Finally, during his twilight days with the Bisons, he became the first player to hit a home run over the center field scoreboard at Buffalo's home park, Offermann Stadium, doing so twice in 1957. On June 14 he cleared the board, and newspapers reported the blow at an estimated 500 feet.[Rochester, New York, Democrat and Chronicle, June 15, 1957, p. 21] On August 15, he hit the board near the top, and it went through a space between the board and a sign just above it.[Rochester, New York, Democrat and Chronicle, August 16, 1957, p. 26]
When told by a fan one time that the fan had seen Easter's longest home run in person, Easter is reported to have replied, "If it came down, it wasn't my longest.""
Luke was already a PCL legend when he made it to the majors. In 1949 he batted .363 for San Diego with a .722 slugging average.
Nobody is really sure when Luke was born, and the big guy offered a different birth year every time he was asked. The census data indicate he was born in 1915, making him a major league rookie at 35. Despite his advanced years in baseball terms, Luke had three great years with Cleveland.
1950: 28 homers, 107 RBI
1951: 27-103
1952: 31-97
After the Indians cut him, he went on to hit more than 200 minor league homers.
Here is a really great article about Luke's colorful life, mostly about the early days of his career.